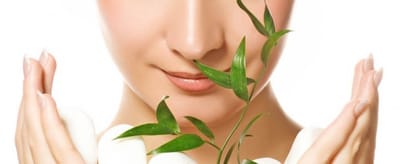 You do not need to be Albert Einstein to realize that the air we breathe, the water we drink and the food we eat,
as well as the products we put on our skin and the products we use to clean our homes, are almost always saturated
by chemicals. Millions of industries worldwide spew out toxic poisons every day. Our children learn about this at school
in their "Save the environment" programs. We hear it on the news and current affair TV shows.
Our water supplies are contaminated with substances such as fluoride, which accumulates in the body over a period of time.
In the home we are exposed to pesticides, bleaches, adhesives, paint fumes and chemicals galore in even the cosmetics
soaps, perfumes and detergents we put on our skin.
Our food is fertilized commercially, treated with pesticides and processed with preservatives, artificial colourings and flavourings.
Our meat is full of nitrates and hormones and antibiotics.
No wonder that serious diseases such as cancer, heart disease and stoke have gone on a rampage this last century!
Add to this the huge increase in allergies, asthma, chronic fatigue syndrome, hormonal problems, food and chemical sensitivities
and many other "allergic reaction" related illnesses. We are basically wallowing in a toxic environment of chemical poisoning
a concoction of literally thousands of different chemical agents in the air we breathe, the water we drink and the food we eat.
Because of these bombardments our bodies are generating what is known as free radicals. Free radicals serve a purpose in the
body by burning bacteria and refuse matter, however they become toxic molecules which begin to destroy healthy cells in
the body rendering them unable to carry out their normal roles. The constant bombardment of these leads to DNA damage
and so sets off a chain reaction which leads to the breakdown of the vital organs and systems of the body.

Sounds depressing doesn't it?

Fortunately there are ways to protect ourselves from this "toxic harvest" by reducing or even eliminating our
exposure to many of these substances and in turn, reduce our risk of becoming ill. The body also can be helped to produce
natural defenders called Antioxidants. There are many vitamin and herbal supplements we can take to boost our antioxidant
activity. By using only organic and natural products, it minimizes our exposure to toxic substances and contributes to good health.